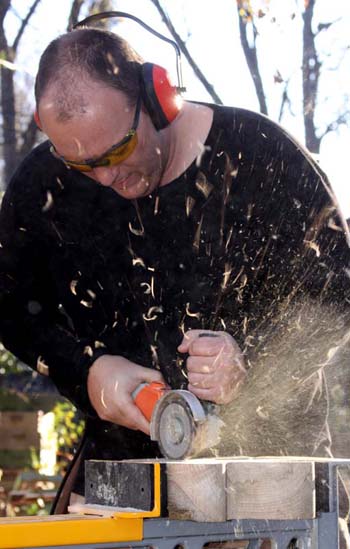 Thomas Haapapuro grew up in the rural foothills of Ohio's Appalachian Mountains, absorbing the natural wonder of farm and forest, stream and mountain. This landscape infused in the artist a fascination with the natural world and its subtle beauties, which is translated into the simple, elegant work he creates.
Thomas earned his degree in Landscape Architecture from Ohio State University in 2001. This profession requires both the insightful eye of a designer and the analytical skills of an engineer. He currently develops land plans for a wide variety of projects throughout the United States, ranging from skyscrapers to downtown streetscapes, from rooftop gardens to urban plazas. This background in engineering, fused with a rural childhood spent studying the natural world, has shaped a balance of organic natural forms within the strong geometric framework that influences Thomas' passion, his woodworking.
Thomas is a self-taught woodworker who explores ways to use conventional tools in unique and interesting new ways to create works that inspire the imagination and appreciation of the natural world. He works to create objects that distill the intricate and complex patterns of nature into clean, sophisticated, and modern forms.
Although Thomas carves a variety of materials, he works primarily in wood. Using local, reclaimed wood, he transforms Charlotte's fallen trees into exquisite art that is environmentally responsible and relates to a specific time and place. This authentic regionalism is seen in the native color and wood grain of the pieces he creates. Thomas prefers working in the medium of wood because of its legacy as a once living, growing material that can be harvested and transformed into new and meaningful forms.